Hospital Evacuation Training
Get Started
Hospital Evacuation Training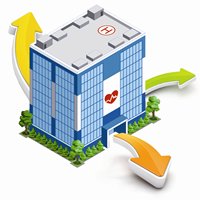 Hospital Evacuation On-Site Training
What happens when a hospital becomes victim to a natural disaster or man-made event and can no longer provide care to its patients? What happens when instead of supporting first responders during an emergency, the hospital itself needs to be evacuated?
DQE On-Site Evacuation Training Offerings Include:
Hospital Evacuation is a multi-faceted process that involves more than simply moving patients from Point A to Point B. It requires a coordination of patients, personnel, movement teams, and outside resources as well as the efficient use of patient assessment tools, documentation forms, and mobility equipment. A successful evacuation capability must be built upon an incident management foundation that is well understood and is easily scalable.
DQE helps your hospital build this foundation by offering a complete Evacuation Preparedness Program that includes comprehensive evacuation training and evacuation planning, supported by an Evacuation Plan Assessment, DQE-On-Demand® online training, and the DQE What's Next™ Sustainment Program. With proper evacuation program development and implementation, chaos is minimized, normal operations resume sooner, the cost of the event is monitored, safety is maximized, and there is a more efficient use of personnel.