Shipping & Returns
Shipping
There is no minimum size. All orders ship FOB shipping point. Shipping and insurance charges are paid by the customer. We cannot deliver to a PO, APO, or FPO address.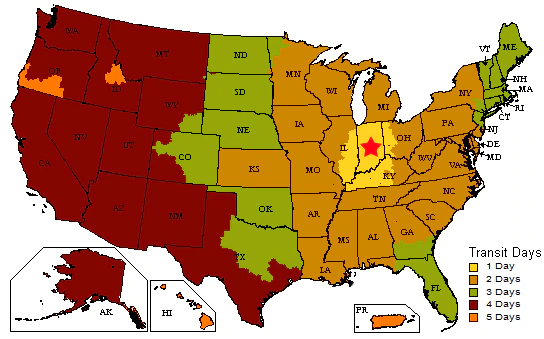 Reliable, On-Time Delivery
Most in-stock orders ship the same day if ordered before 3:00 p.m. EST. DQE is located in Indiana, the Crossroads of America, so Ground Service for stocked products is never more than a few days away!
Free Shipping Policy
Free shipping is provided on most orders $10,000 and above within the continental U.S. DQE reserves the right to assess shipping charges for any special or unforeseen circumstances. Free shipping exclusions are as follows:
Distributors with contract pricing and other existing rebate offers
All overpack container products and collection barrels
Bedside commodes (MC4029)
Customized product orders
Accessorial shipping services are not included
Returns
All returns must be authorized by DQE Customer Service. After 30 days from the sale, merchandise approved for return will be eligible for DQE credit only and a restocking charge of 10% will be deducted from the final credit. The customer is responsible for all shipping charges on returned merchandise after 30 days from sale.