Decontamination Training
Get Started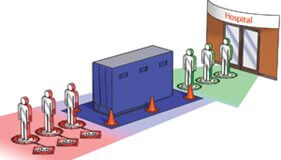 Decontamination On-Site Training
Decontamination readiness is an essential capability for ensuring the safety of hospital staff during any hazardous materials incident. OSHA requires that hospitals provide ongoing training (Awareness, Operations, and Refresher) to personnel who are expected to decontaminate or interact with contaminated victims.
Sustaining this capability is a challenge for any program or response capability that is used infrequently and intended to persevere over time. Our goal is to help hospitals attain a real, working level of decontamination preparedness and then support that effort over time – a task DQE has done successfully for over 20 years.
DQE Decontamination Training Programs Include:
Hospital Decon Site Survey
Awareness Level Decontamination Training
Operations Level Decontamination Training
Decon Instructor Development Training
Refresher Decontamination Training
What's Next Decontamination Sustainment Program
DQE Decontamination Training Programs can be used for OSHA certification and are aligned with NIMS activities for hospitals and healthcare systems, ASPR, NFPA 99, and The Joint Commission.