VA Triennial Emergency Capability Assessment Survey sees DQE PACE Evacuation Kits as best practice
VA Triennial Emergency Capability Assessment Survey sees DQE PACE Evacuation Kits as best practice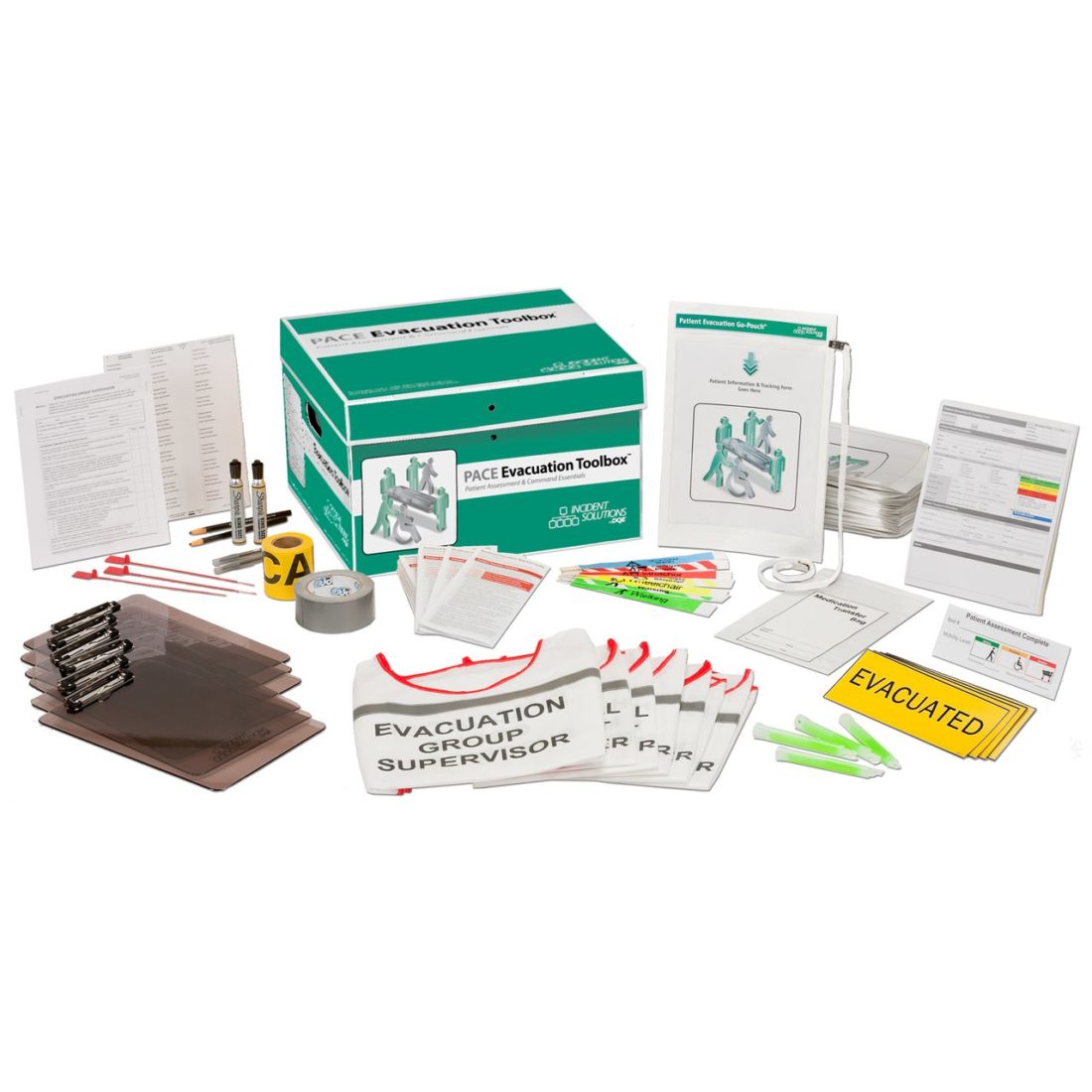 In June 2017, VA Northern Indiana completed a Triennial Emergency Capability Assessment Survey where over 500 elements of emergency management performance were assessed by the VA Office of Emergency Management. DQE's PACE Evacuation Toolboxes were integrated into their Evacuation procedures for Long Term Care beds (over 100), their Acute Medical Unit and their Behavioral Health Units (over 75 beds). The Survey team was very impressed with the comprehensiveness of our plan and incorporation of the PACE evacuation kits, in fact they noted in their final report;
"…A best practice appears in evacuation planning to include specialized kits for full accountability of patients." This is a significant finding as the tracking and care of patients/residents during an evacuation is of utmost importance for their well-being and safety.
Visit DqeReady.com/Evacuation to view DQE's full line of evacuation tools.
The following are some of the featured products in the new hospital evacuation line:
PACE Evacuation Toolbox – PACE stands for Patient Assessment & Command Essentials. This toolbox is a flexible system that is designed to be easily integrated into your facility's existing evacuation capability. Its contents organize an evacuation response effort and include items that focus on patient preparation, incident management, and evacuation support.
Patient Evacuation Go-Pouch – The Go-Pouch maintains continuity of care by consolidating vital information and supplies into one location. This gusseted Tyvek envelope holds a medical transfer bag, patient assessment door sign, and patient mobility level wristbands. Also included is the Go-Pouch clip, which secures the Go-Pouch to the patient, so the necessary items stay with the patient throughout the evacuation process.
HICS Vests – Evacuation Branch – Easily identify staff members of the Evacuation Branch with these HICS-style vests. The position names are printed on both the front and the back with a reflective strip sewn on both sides. Constructed of a non-woven, breathable synthetic material, these vests are durable enough for repeat use during evacuation training, but economical enough for disposal.