Kinnos Partners with DQE to Implement Highlight Technology
Kinnos Partners with DQE to Implement Highlight Technology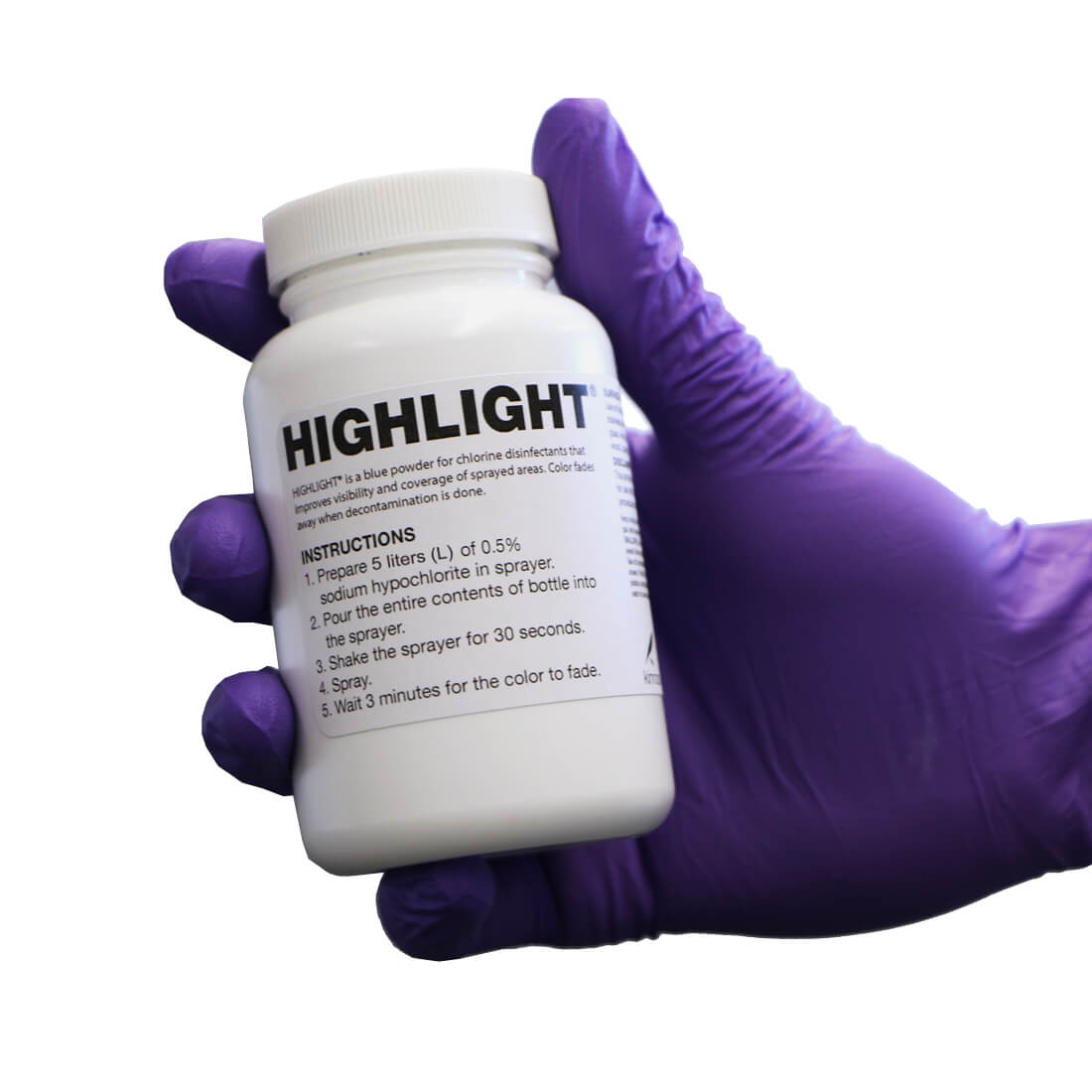 Kinnos Inc.'s flagship technology, Highlight®, is now being stocked by DQE for first response and emergency preparedness. Highlight®, a powder additive for bleach solutions, colorizes and increases the wettability of the disinfectant to ensure full coverage, and then fades in color to transparent to indicate when the contact time has been met and decontamination is complete. Highlight® has previously been used in Liberia and Guinea for the Ebola outbreak in West Africa and is currently used by first responders, biosafety and healthcare professionals, and non-government organizations for training and routine decontamination.
"We believe this partnership with DQE will greatly expand the reach of Highlight®, especially during emergency situations," said Jason Kang, Chief Executive Officer of Kinnos. Founded in 1990, DQE is a recognized leader of healthcare products and services for emergency preparedness. DQE played a pivotal role in supplying healthcare facilities with proper protective equipment during the 2014 Ebola outbreak, and currently offers a diverse infection prevention product portfolio. "Given DQE's breadth of experience with emergency scenarios, we are excited to include Highlight® as part of a robust personal protective equipment package from such a trusted brand," said Kang.
"DQE is pleased to now be offering Kinnos Highlight® to its customers," said Tony Baumgartner, President of DQE. "Proper decon coverage is critical, particularly for infectious disease protocols, when coverage includes solutions that disinfect. It could literally mean the difference between life and death. The Highlight® product helps to show complete decon coverage, thereby ensuring good process but it can also improve the efficiency of the decon process by minimizing over-coverage and missed spray targets. DQE has been the decon company for over 25 years and we welcome partnerships with innovative companies like Kinnos."
About Kinnos Inc.
Kinnos (Brooklyn, NY) raises the standard of infection prevention to protect healthcare workers, patients, and the general public from infection their first product, Highlight®, is a patent-pending color additive that greatly improves visibility, coverage, and end-user compliance of disinfectants. Highlight® will soon be available for bleach wipes in hospitals. For more information, visit: www.kinnos.us.
About DQE, Inc.
Headquartered in Indianapolis, Indiana, DQE designs and sells essential products that emergency responders depend on to enhance their jobs while saving lives. Learn more about DQE and its family of products at www.dqeready.com.