Latest Study Suggests the Coronavirus (COVID-19) is Also Spreading via Stool
Latest Study Suggests the Coronavirus (COVID-19) is Also Spreading via Stool
Diarrhea may be a secondary path of transmission for the novel coronavirus, scientists said Friday following the publication of the latest study reporting patients with abdominal symptoms and loose stool.
Common symptoms at the onset of illness were fever, dry cough, myalgia, fatigue, dyspnea, and anorexia. However, a significant proportion of patients presented initially with atypical symptoms, such as diarrhea and nausea. A total of 14 out of 138 patients (10 percent) in a Wuhan hospital who were studied in the new paper by Chinese authors in the Journal of the American Medical Association (JAMA) initially presented with diarrhea and nausea one or two days before to the development of fever and labored breathing.
Presumed Hospital-Related Transmission and Infection
Of the 138 patients, 57 (41.3%) were presumed to have been infected in hospital, including 17 patients (12.3%) who were already hospitalized for other reasons and 40 health care workers (29%).
Read the full article from JAMA here – Clinical Characteristics of 138 Hospitalized Patients With 2019 Novel Coronavirus–Infected Pneumonia in Wuhan, China
Supporting DQE Products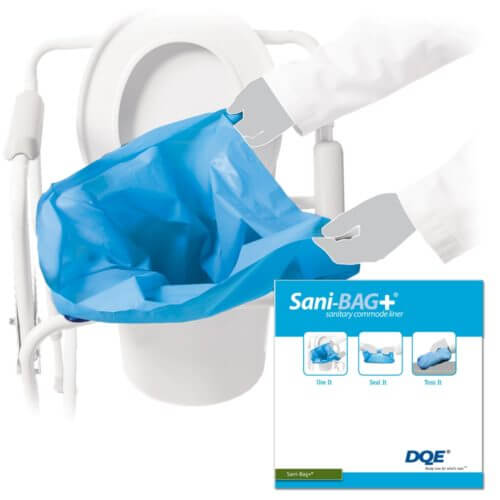 Sani-Bag+ Commode Liner
Case of 4 Boxes (25 per box)
The Sani-Bag is a commode liner and bedpan liner that provides human bio-waste management by containing and gelling waste for easy, sanitary disposal without a need for water.